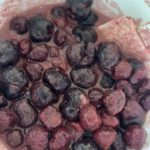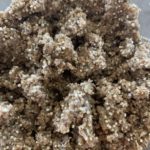 Gluten Free
Happily Serves 8
ALL ORGANIC INGREDIENTS
Filling
4 Cup Cherries
1/2 cup Coconut Sugar or Monk Fruit
2 tsp Cinnamon
1/3 Cup Quinoa flour
1 TBSP Cornstarch
Crumble
1 Cup Monk Fruit
1 1/2 TBSP Cinnamon
1 tsp Pumpkin pie spice
3/4 Cup Paleo Flour (walnut, pecan, almond & coconut mix)
2/3 Cup Quinoa
2/3 Cup Hemp seeds
1 Cup Walnuts or Pecans
3/4 Cup Butter
Preheat oven to 375F
Spray a 9×13 pan with coconut oil.
Mix filling ingredients and place into baking dish.
In another bowl, mix together crumble ingredients except the butter.
Add the butter and mix with a fork, pressing the butter in to the dry mixture.
The mixture will begin to come together but still crumbly.
Add Crumble mix on top of filling mixture.
Bake about 45 minutes.
Top will be golden, fruit will be bubbling.
Side note: I tired this recipe not cooking it as well, and it was just as yummy! Go Raw if you don't have time, it's still delicious and digestible!