Quinoa Broccoli "Rice" Bowl-Gluten Free! Meatless meal idea.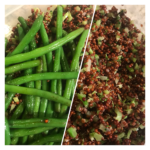 Quinoa Broccoli "Rice" Bowl
Vegan, Gluten Free
Happily serves 2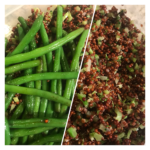 ALL ORGANIC INGREDIENTS
1 Cup Rinsed Quinoa
1 Cup Bone Broth
1 Cup Broccoli Rice
1 TBSP Avocado Oil
1 TBSP Lemon Juice
2 Garlic Cloves
1 tsp minced onion or 1/4 cup yellow onion
1 tsp Himalayan Sea Salt
Rinse and drain Quinoa.
Heat Bone broth and add quinoa. Slow simmer about 10-15 minutes depending on how crunchy you prefer.
Steam Broccoli 3-5 minutes.
Add Avocado oil, lemon juice and spices together with the broccoli and quinoa.
Add extra Veggies for more fiber or use as filling for a stuffed Bell pepper.