Organic Aloe Vera Digestion
160grams $29.95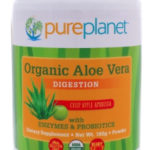 Ready-To-Mix Drinks
High in polysaccharides, these organic and sustainably-harvested aloe vera powders are based in organic coconut water. They provide maximum absorption and effectiveness, any time of day for digestion and immune support!
with Vegan Digestive Enzymes and Probiotics
Vegan, enzymes and lactospore nurture friendly bacteria to support healthy digestion .
* May promote healthy digestion
* A great daily support
Servings Per Container: 20
Mix one scoop or packet (8g) with 6-8 oz. of water prior to or with a meal.
Serving Size: 1 scoop (8g)
Amount Per Serving
Calories … 25
Total Fat … 0g
Saturated Fat … 0g
Trans Fat … 0g
Cholesterol … 0mg
Sodium … 60mg
Total Carbohydrate … 7g
Dietary Fiber … 2g
Total Sugars … 2g
Potassium … 150mg
Organic Coconut Water Powder … 2890mg
Organic Jerusalem Artichoke … 1360mg
Organic Aloe Vera … 160mg
(200:1 Inner Leaf)
Organic Ginger Root Powder … 80mg
Digestive Enzyme Blend … 40mg
Probiotics … 600 million CFU/Serving
Ingredients: Organic Coconut Water, Organic Brown Rice Syrup Solids, Organic Jerusalem Artichoke Inulin, Organic Aloe Vera Powder, Organic Lemon Powder, Organic Ginger Root, Malic Acid, Organic Lo Han Guo (Monk Fruit), Digestive Enzyme Blend (Amylase, Protease, Lactase, Lipase, Cellulase), Probiotics (Bacillus Coagulans [Provides 600 million CFU/ Serving]), Organic Stevia Leaf Extract.
No refrigeration needed.