Vegan, Gluten Free, Refined Sugar Free
Happily Serves 24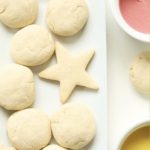 All Ingredients Organic
COOKIES
1/2 cup softened vegan butter (or butter if not vegan)
2/3 cup cane sugar or coconut sugar
1 tsp pure vanilla extract
3 Tbsp chickpea brine (aquafaba – the liquid left behind in a can of cooked chickpeas) or flax egg
3/4 tsp baking powder
1/4 tsp sea salt
1 2/3 cups gluten free flour blend
2/3 cup almond flour
1/3 cup arrowroot
1 Tbsp unsweetened almond or nut milk
FROSTING (optional)
1/2 cup vegan butter, softened
1.5 – 2 cups sifted powdered sugar
1/4 tsp vanilla extract
1-2 Tbsp unsweetened almond or nut milk
Preheat oven to 375 and line baking sheets with parchment paper.
Add softened vegan butter (not melted or cold) to a mixing bowl and beat/whisk until creamy and smooth.
Add sugar and mix on medium speed until fluffy
Then add chickpea brine (or other egg substitute) and vanilla and mix again.
Add baking powder and sea salt and blend well
Then add GF flour blend, almond flour, and arrowroot and mix on low until the ingredients are combined.
Add almond milk and stir.
The dough should be thick, moldable and a little difficult to mix at this point. If too soft, continue adding a mixture of GF flour blend, almond flour, and arrowroot until a thick, moldable dough is formed. If too thick, thin with a bit more almond milk.
Transfer dough to the refrigerator and chill for 15 minutes. Once chilled, use a spoonful of about 1.5 Tbsp of dough and roll into balls – the dough will still be soft so be gentle. Place on parchment-lined baking sheets and press down gently with the back or your spoon to smash slightly.
Or you may roll out the dough on a well-floured surface until about 1/4-inch thick and use cookie cutters (dipped in GF flour) before pressing into the dough. Use a floured spatula to gently scoop onto baking sheets.
Bake cookies for about 10-12 minutes or until the cookies appear fluffy.
Let cool on baking sheet for 10 minutes before transferring to cool completely.
To make frosting, add softened vegan butter to a mixing bowl and whisk/beat until soft.
Sift in powdered sugar in small amounts and mix, add the vanilla and whisk.
Continue adding powdered sugar until you have spreadable frosting.
Once cooled, store leftover cookies covered at room temperature for 3-4 days, or in the freezer up to 1 month.
Notes
If you'd like to cut back on sugar, sub 1/3 cup of the sugar with about 1/4 tsp stevia. This will make the cookies softer, so you may need to add more GF flour or arrowroot to help thicken the dough.
The chickpea brine substitutes an egg in this recipe. In its place, you can also try subbing 1/4 cup pumpkin puree, 1 egg replacer, or 1 small chicken egg if not vegan.
You can make the cookie dough and refrigerate up to 2-3 days before baking.
Simply let the dough rest at room temperature for 30 minutes before scooping and baking. It should be soft and moldable.
Nutrition information is a rough estimate for 1 of 24 cookies without frosting.
Nutrition Information
Serving size: 1 cookie without frosting
Calories: 122 Fat: 5.6 g Saturated fat: 2.6 g Carbohydrates: 17 g Sugar: 5.8 g Sodium: 48 g Fiber: 0.8 g Protein: 1.3 g