sub sunflower butter
now browsing by tag
Chipotle Sauce/Dressing
GF, Refined Sugar Free, Vegan
Happily serves 2
ALL ORGANIC INGREDIENTS
1 TBSP Tahini (can sub Sunflower butter)
1 TBSP Hemp Seed oil
2 Garlic cloves, crushed
1 TBSP Coconut Aminos
1 tsp chili powder
½ tsp Chipotle powder
½ tsp Cayenne
¼ tsp Sea salt
Mix all ingredients together. Can be used as a salad dressing or over stir fry and quinoa.  Great Sauce for lettuce wraps!
OR:
Optional: ADD 1TBSP Nutritional Yeast if you want to toss it on Collard Greens and bake.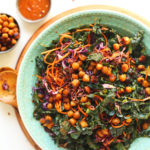 Asian Chick Pea Kale Salad
Vegan, Gluten Free
Happily Serves 4
VEGETABLES
1 large bundle finely chopped kale  (steamed and drained)
1 cup finely grated carrots (steamed)
2 cups finely shredded red cabbage (Steamed)
DRESSING
1/4 cup cashew butter (or sub sunflower butter)
1/4 cup + 1 Tbsp Korean BBQ sauce (Skyvalley brand)
1/4 cup sesame oil
3 Tbsp maple syrup
Sea salt or 1 Tbsp tamari or coco amigos
CHICKPEAS
1 Cup soaked and dried chickpeas (or sub Mung beans)
2 Tbsp sesame oil or avocado oil
2 tsp maple syrup
1 garlic clove
optional: red pepper flakes or chili powder
Preheat oven to 425
When preparing chickpeas, make sure they are dry – this will help them crisp up.
In a medium mixing bowl add sesame oil, maple syrup and Korean BBQ sauce and whisk.  Add chickpeas and toss to coat. Arrange on a baking stone/sheet and bake for 20-25 minutes, tossing halfway to ensure even baking. They're done when crisp and deep golden brown.
To prepare dressing, add all ingredients and whisk to combine. Taste and adjust flavors as needed, adding more maple syrup for sweetness, Korean BBQ sauce for heat, cashew butter for creaminess, or salt or tamari for saltiness.
Add kale (steamed), carrots and cabbage to a large mixing/serving bowl and toss to combine. Then add dressing, toss to coat.
To serve, divide salad between serving plates and top with crunchy chickpeas.  Keep leftover chickpeas separate from salad in a well-sealed container at room temperature for 2 days