Serving
Calories
now browsing by tag
BiotaGen
Klaire Labs
$22.95 5.3oz powder
Versatile prebiotic formula to optimize gut microflora, improve bowel function 
and support the immune system.
BiotaGen is a distinctive formulation of soluble dietary fiber with prebiotic 
activities that stimulates growth of colonic populations of beneficial bacteria 
and enhances gastrointestinal and systemic immune function in multiple ways. 
BiotaGen combines chicory inulin and oligofructose, highly effective 
prebiotics, with the immunomodulating actions of larch arabinogalactan and 
purified yeast beta-glucan.
Chicory-derived inulin and oligofructose are inulin-type fructans best known 
for their ability to sustain increases in populations of Bifidobacterium, 
Lactobacillus, and Eubacterium, an important butyrate-producing species 
indigenous to the bowel. By escaping digestion and absorption in the small 
intestine, inulin-type fructans arrive largely intact in the colon where they 
selectively feed beneficial gut microbiota. In addition, inulin-type fructans 
promote normal colon transit times, enhance absorption of calcium and 
magnesium, favorably modulate lipid levels, improve gut mucosal barrier and 
immune function, regulate intestinal epithelial cell growth, and reduce the 
number of potentially harmful bacterial species.
Arabinogalactan, a polysaccharide derived from the Western Larch tree, is a 
highly soluble dietary fiber that enhances immune function by promoting 
cytokine production and increasing the number of natural killer cells. 
Indigestible by human enzymes, arabinogalactan exerts prebiotic properties 
including the ability to selectively stimulate Lactobacillus species. 
Arabinogalactan is metabolized to short-chain fatty acids acetate, butyrate, 
and propionate and reduces ammonia production.
Beta-glucan, a glucose polysaccharide prebiotic fiber, has broad, beneficial 
effect on immune function through enhancement of monocytes, macrophages, and 
natural killer cells. Beta-glucan stimulates immune response to a wide spectrum 
of pathogens, including fungal (Candida albicans), Gram-positive 
(Staphylococcus aureus), and Gram-negative (Escherichia coli) microorganisms.
BiotaGen is recommended to nutritionally support optimal gastrointestinal 
function, promote populations of healthful colonic bacteria, and enhance 
gastrointestinal and systemic immune function. BiotaGen® works synergistically 
with probiotics to assure intestinal microflora balance. Available in both 
powder and vegetarian capsule form.
Servings Per Container: 30
1 to 2 scoops daily with food or as directed by a healthcare practitioner..
Serving Size: 1 Scoop (Approx. 1 teaspoon or 5 grams)
Amount Per Serving
Calories … 5g
Total Carbohydrate … 5g
Dietary Fiber … 4g
BiotaGen Prebiotic Blend … 5g
Inulin (derived from chicory root) Oligofructose (derived from chicory root) 
Beta-Glucan (purified from Saccharomyces cerevisiae) Larch Arabinogalactan 
(Larix occidentalis), dried water-soluble extract
Other Ingredients: None.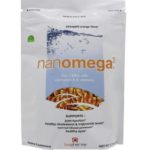 NanOmega3 Pineapple Orange
BioPharma Scientific.
$46.65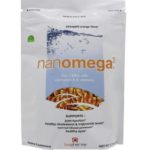 HEALTH PROFESSIONAL FORMULA
1000 IU of Vitamin D
Good Source of Fiber, Pineapple Orange
SuperFood SOLUTION™. NanOmega3™
Heart, Brain & Vision SuperFoodlifesDHA™.
HEALTHY BRAIN, EYES, HEART
SuperSorb® DELIVERY
DIETARY SUPPLEMENT
NET WT. 12.7 OZ (360g)
More Info:
Omega-3s are essential for fatty acids (EFAs) for supporting:
* heart health
* joint health
* healthy skin
* maintenance of normal blood lipids
* healthy brain function
* healthy eyes (retina)
* immune health
* general health and wellness
Truly a breakthrough functional food formula, NanOmega3 provides essential fatty acids (EFAs) from both:
-ALA, alpha-linolenic acid, from specially stabilized, organic MeadowPure™ golden flaxseed and
-DHA oil (lifesDHA™ from Martek) derived from plant marine algae, with
-Synergistic vitamins E, D3, folic acid, B6 and B12.
Supplemental Facts:
SuperSorb® is BioPharma Scientifics registered name for its enhanced delivery systems wherein highly bioavailable forms of micronutrient and microencapsulation are utilized to help maximize nutrient absorption.
In order to ensure correct usage of BioPharmas high potency formulas, BioPharma sells only through licensed healthcare practitioners.
Servings Per Container: 30
SUGGESTED USE:
Mix one [1] scoop (12 g) with 6-8 ounces of cold water, juice or milk to taste. Shake or blend briskly. Enjoy one (1) to two (2) times a day unless otherwise directed by your health professional. Children under 12 take 1/2 serving. NanOmega3 is scientifically formulated to taste great with BioPharmas entire SuperFood Solution™ line. For a wealth of SuperFood Smoothie/Shake recipes, ask your health professional for a copy of The SuperFood Solution™ Users Guide.
Refrigerate after opening.
Benefit:
YES:
*Great tasting, instant mixing
*Made with organic flax
*Vegan & non GMO
*Low net carb
*Low peroxide value (pv)
*Fortified with Vitamins D, E, & B
NO:
*Fishy tastes, smells or toxins
*Fish oil "burps"
*Animal or fish products
*Eggs, dairy, wheat, yeast, soy, gluten
*Artificial flavors, MSG, or glutamate peptides
Serving Size: 12g (1 scoop)
Amount Per Serving
Calories …57
Calories from fat …122
Total Fat …2.5g / 4% DV
Saturated Fat …Total Carbohydrate …7g / 2% DV
Dietary Fiber …2.5g / 10% DV
Sugars …1g
Protein …1g
Vitamin D3 …1000 IU / 250% DV
(cholecalciferol)
Vitamin E …30 IU / 100% DV
(d-alpha tocopherol succinate)
Vitamin B6 …1mg / 50% DV
(as pyridoxal-5-phosphate)
Vitamin B9 …2000mcg / 50% DV
(as folic acid)
Vitamin B12 …85.5mcg / 1, 425% DV
(as cyanocobalamin)
Calcium …21mg / 2% DV
Iron …425mcg / 2% DV
Magnesium …22mg / 5% DV
Sodium …5mg / <1% DV
Potassium …36mg / 1% DV
Total Omega-3 …1100mg #
Omega-3/DHA …100mg #
Omega-3/Linolenic Acid …1000mg #
Omega-6 …300mg #
Lignans …50mg #
Turmeric …70mg #
Stevia Leaf Crystals …70mg #
(stevia rebaudiana)
* Percent Daily Values are based on a 2, 000 calorie diet.
# Daily Value not established.
OTHER INGREDIENTS: Meadow Pure™ Omega-3 Ultra Golden Flax™ with Marteks DHA oil derived from marine algae, Natural Flavors (plant based), Rice Bran Soluble fiber*, Vitafiber™ (isomalto-oligosaccharides from non-GMO corn and/or potato starch), Rice Malto-dexrin*, Xanthan Gum, Natural Curcumin Color (plant based).
*Organic ingredients
IMPORTANT:
Best if stored in cool, dark conditions. After each use close tightly and refrigerate immediately. Contains an oxygen absorbent packet to preserve freshness.
Pregnant and nursing mothers, anyone taking prescription medications, or prior to any surgical procedures, inform their healthcare practitioner and/or pharmacist before taking this or any other dietary supplement.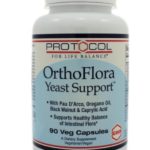 OrthoFlora Yeast Support
Protocol for Life Balance
90 Capsules $22.00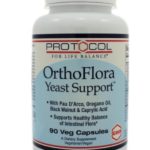 With Pau D'Arco, Oregano Oil, Black Walnut & Caprylic Acid
-Supports Healthy Balance of Intestinal Flora*
-A Dietary Supplement
-Vegetarian / Vegan
OrthoFlora Yeast Support™ is a unique formula with nutritional and traditional herbal ingredients that may help to support a healthy balance of intestinal flora.* Candida albicans is a naturally occurring yeast that typically resides in the gut as part of the normal gut flora. It is well known that a proper composition of intestinal organisms is critical to healthy digestive and immune system function, as well as for the support of proper detoxification processes.* Although OrthoFlora Yeast Support™ is not meant to clear Candida albicans from the gut, it can help to support a healthy balance of intestinal flora, a healthy immune system, proper detoxification, and overall digestive well-being.
Servings Per Container: 45
As a dietary supplement, take 2 capsules twice daily with food or as directed by your healthcare practitioner.
Serving Size: 2 Veg Capsules
Amount Per Serving
Calories … 10 
Calories from Fat … 5 
Total Fat … 0.5g
Saturated Fat … 0.5g
Trans Fat … 0g 
Total Carbohydrate … 1g
Biotin … 2mg (2, 000 mcg)
Magnesium … 45mg
(from Magnesium Caprylate)
Caprylic Acid … 500mg 
(from Magnesium Caprylate)
Pau D … 300mg
Black Walnut … 300mg 
(Juglans nigra L.)(Hull)
Oregano Oil Powder … 200mg 
(Origanum vulgare)(min. 1.75% Volatiles)
Other Ingredients: Cellulose (capsule), Garlic (bulb), Olive Leaf, Cat's Claw Root, Wormwood Herb, Silica, Magnesium Stearate (vegetable source) and Cellulose Powder.
Contains tree nut (walnut hulls).
Not manufactured with wheat, gluten, soy, milk, egg, fish or shellfish ingredients.
Produced in a GMP facility that processes other ingredients containing these allergens.
CAUTIONS AND INTERACTIONS: Ingredients in this product may interact with hormonal medications such as insulin. If you are taking medications or if you are pregnant/nursing, consult your healthcare practitioner prior to use. May cause mild transient gastrointestinal discomfort.