Preheat
now browsing by tag
Coconut Oil Biscuits
Dairy Free, GF, Vegan
Happily serves 12
ALL ORGANIC INGREDIENTS
2 cups self-rising GF flour
1/4 cup coconut oil (solid, not melted)
3/4 cup Non Dairy Milk
Preheat oven to 425 degrees.
Add self-rising GF flour and coconut oil to a mixing bowl, use a pastry cutter or fork to cut the coconut oil into the flour until the mixture is like fine crumbs.
Stir in the milk until mixture forms a soft dough and no longer sticks to the sides of the bowl.
Knead the mixture until combined, but be careful not to over-knead.
Turn the dough out onto a cutting board that has been lightly dusted with flour.
Gently roll the dough out until it reaches a 1/2-inch thickness.
Use a biscuit cutter to cut out the biscuits, and transfer to a baking sheet.
Bake for 10 minutes, or until the biscuits have risen and ever so slightly begin to brown on top.
Remove and serve immediately.
Indian Inspired Baked Kale
Gluten Free, Vegetarian
Happily serves 2
ALL ORGANIC INGREDIENTS
1 TBSP Tahini or Almond butter
1 TBSP Coconut oil, melted
Zest of 1 Orange or Lime
2 garlic cloves, crushed
1 tsp garma masala
¼ tsp Cardamom
Optional: 1 TBSP Nutritional yeast
Optional: 1 TBSP Coconut Aminos to thin if you aren't baking kale and just want a salad dressing.
Preheat oven at 275 degrees.
Prepare baking stone with parchment paper.
Mix all the ingredients together until smooth.
In a large bowl, pour the dressing over the chopped kale.
Mix the dressing into the kale thoroughly, spread evenly on baking stone.
Make sure the leaves aren't overlapping, this prevents sogginess.
Bake for 15 minutes and rotate pan.
Bake for another 15 minutes, check for crispness.
If the chips aren't crisp yet, rotate again and bake for 5-10 minutes more.
Allow the chips to cool for about 5 minutes before serving.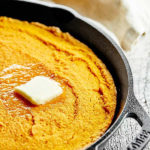 PUMPKIN CORNBREAD
Vegan, GF, Dairy Free
Happily Serves 8
ALL ORGANIC INGREDIENTS
¾ cup almond or coconut milk, room temperature
¼ cup Coconut vinegar
1 cup cornmeal
1 cup GF All purpose flour (can sub quinoa flour)
½ teaspoon Himalayan Sea salt
½ teaspoon cinnamon
½ teaspoon baking soda
½ cup softened coconut oil
⅓ cup brown sugar, packed (can sub coconut sugar)
1 can pumpkin puree or 2 cups fresh pumpkin
Preheat oven to 375 degrees F and prepare a 9 in cast iron skillet (or square pan) with cooking spray.
Stir together nut milk and vinegar. Let sit for 10 minutes while you prep the rest of the ingredients.
Whisk together your dry ingredients: cornmeal, whole wheat pastry flour, salt, cinnamon, and baking soda and set aside.
Whisk together coconut oil and granulated sugar until well combined.
Whisk in pumpkin puree.
Stir in almond milk/vinegar mixture.
Now stir in your dry ingredients.
Mix until just combined.
Don't over mix, or you'll end up with tough bread!
Bake for about 25-35 minutes, or until an inserted toothpick comes out clean.
Remove from the oven, let cool slightly and then serve immediately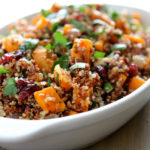 Sweet Potato Quinoa Cranberry Stuffing
Gluten Free, Vegan, Vegetarian 
Happily serves 4
ALL ORGANIC INGREDIENTS
1 cup Tricolor sprouted quinoa, rinsed
2 diced Sweet potatoes
1/2 red onion
1 crushed garlic clove (cut and let sit 5 mins)
1 TBSP Coconut oil
2 tsp Cumin
3 TBSP Chopped parsley
1.5 C Bone broth
Sea Salt & White Pepper to taste
Optional: 1/2 C cranberries
Optional: 1/4 C pecans
Preheat oven to 375

 
Rinse Quinoa.  Heat 1 1/2 cup bone broth, add quinoa and simmer for about 15 minutes until water is absorbed.  Do not over cook.  Remove from heat and let cool.
On a baking stone, Add sweet potatoes, onions and garlic. Drizzle with Coconut oil and roast for 15-20 minutes, until soft.
Combine sweet potatoes and onions with cooked quinoa. Stir in cumin, cranberries, pecans, parsley, salt and pepper.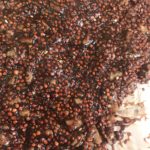 Quinoa Brittle
Vegan, Gluten free, Refined Sugar Free
Happily Serves 10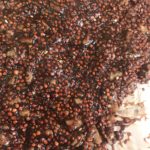 ALL ORGANIC INGREDIENTS 
3/4 Cup Tricolor uncooked quinoa
3/4 cup Pecans
2 TBSP Coconut sugar
1/2 tsp Pumpkin pie or allspice
2 TBSP Coconut oil
1/4 cup Blackstrap Molasses
1/4 cinnamon
Pinch of Himalayan sea salt
Stevia, if you desire it sweeter
Preheat oven to 325.
Line a baking sheet with parchment paper. (Cover all edges)
Combine quinoa, pecans, coconut sugar, salt, and cinnamon/spices in a bowl and set aside.
Over low to medium heat, add the coconut oil and black strap molasses (and optional Stevia). Stir until there is no visible separation.  Pour over the dry ingredients, combine and coat evenly,  spread on a parchment lined baking sheet with a metal spoon.
Try to get it as even as possible or the edges will burn in the center won't crisp up.
Bake for 15 minutes and turn the pan around to ensure even baking and Browning. Back 5 to 10 minutes more and watch carefully so it does not burn. The edges will get crisp and caramelized, and the color will be uniformly deep golden brown in color.
Let it cool completely before breaking it into serving pieces.   You can store leftovers in a sealed container at room temperature for a week, or in the freezer for up to one month.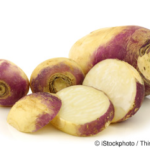 Rutabaga Sweet Potato Soup
Vegan, Gluten Free
Happily Serves 4
ALL ORGANIC INGREDIENTS
1 butternut squash, cut in half
3 garlic cloves
2 cups rutabaga, peeled and diced
2 cups sweet potato, peeled and diced
Coconut Oil
1 tsp. Sea salt
½ tsp pepper
1 Yellow onion, chopped
¾ Cup soaked cashews
2½ Cups Coconut milk
2 Cups vegetable or chicken broth
½ tsp nutmeg
1 tsp thyme
Directions
Preheat oven to 400º .
Rub the squash with oil and place cut-side down on a baking sheet.
Cut garlic and let sit 5-10 mins.
Coat the rutabaga and sweet potato in oil and sprinkle with salt and pepper.
Add both to baking sheet. Bake for 50-60 minutes, rotate half way through.
Sauté onion and garlic until soft and caramelized.
Remove roasted veggies from oven and blend all of the above in a food processor until smooth. The nuts may remain grainy, but that's okay. You can add water to reach desired consistency.
Rutabagas Nutrition Facts
Serving Size: 3.5 ounces (100 grams), raw
Calories 39
Calories from fat 2
Total fat 0 g 0%
Saturated fat 0 g 0%
Trans fat
Cholesterol 0 mg 0%
Sodium 20 mg 1%
Total Carbohydrate 9 g 3%
Dietary Fiber 2 g 7%
Sugar 6 g
Protein 1 g
Vitamin A 0% Vitamin C 31%  Calcium 5% Iron 3%
Health Benefits of Rutabagas
All crucifers (brassicas or cole crops) are high in antioxidant and anti-cancer compounds. The anti-cancer properties of these vegetables are so well established that the American Cancer Society recommends that Americans increase their intake of cruciferous vegetables.
Rutabaga's most significant nutrient comes from vitamin C. One cup contains 53% of the daily recommended value, providing antioxidants and immune system-supporting functions that help protect the cells from free radical damage. Although rutabagas provide only 5% of the iron needed for healthy blood on a daily basis, vitamin C enhances its absorption, while helping to form both collagen and the thyroid hormone thyroxine, which protect cells against damage, encourage wounds to heal, fight infections, and promote healthy bones, teeth, gums, and blood vessels.
Beta-carotene-rich rutabagas are also an excellent source of potassium and manganese (for energy), and a good source of fiber, thiamin, vitamin B6 (helps support the nervous system), calcium (for strong bones), magnesium (helps absorb calcium and combat stress), and phosphorus (helps metabolize proteins and sugars).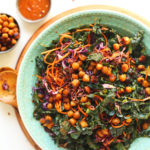 Asian Chick Pea Kale Salad
Vegan, Gluten Free
Happily Serves 4
VEGETABLES
1 large bundle finely chopped kale  (steamed and drained)
1 cup finely grated carrots (steamed)
2 cups finely shredded red cabbage (Steamed)
DRESSING
1/4 cup cashew butter (or sub sunflower butter)
1/4 cup + 1 Tbsp Korean BBQ sauce (Skyvalley brand)
1/4 cup sesame oil
3 Tbsp maple syrup
Sea salt or 1 Tbsp tamari or coco amigos
CHICKPEAS
1 Cup soaked and dried chickpeas (or sub Mung beans)
2 Tbsp sesame oil or avocado oil
2 tsp maple syrup
1 garlic clove
optional: red pepper flakes or chili powder
Preheat oven to 425
When preparing chickpeas, make sure they are dry – this will help them crisp up.
In a medium mixing bowl add sesame oil, maple syrup and Korean BBQ sauce and whisk.  Add chickpeas and toss to coat. Arrange on a baking stone/sheet and bake for 20-25 minutes, tossing halfway to ensure even baking. They're done when crisp and deep golden brown.
To prepare dressing, add all ingredients and whisk to combine. Taste and adjust flavors as needed, adding more maple syrup for sweetness, Korean BBQ sauce for heat, cashew butter for creaminess, or salt or tamari for saltiness.
Add kale (steamed), carrots and cabbage to a large mixing/serving bowl and toss to combine. Then add dressing, toss to coat.
To serve, divide salad between serving plates and top with crunchy chickpeas.  Keep leftover chickpeas separate from salad in a well-sealed container at room temperature for 2 days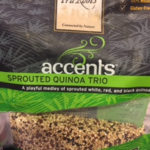 Quinoa Quiche
GF, Paleo
Happily serves 2
ALL ORGANIC INGREDIENTS
3/4 Cup sprouted tricolor quinoa, rinsed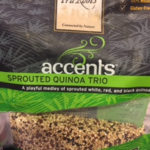 1 1/2 Cup bone broth (for cooking quinoa)
2 free range eggs, lightly beaten
2 Cups broccoli, finely diced
1 Cup yellow onion, finely chopped
1 garlic clove, minced
1 1/2 Cup Vegan cheese
1/2 tsp paprika
Crushed red pepper to taste (optional)
Preheat oven to 350, spray muffin tins with coconut oil.
Cook quinoa according to directions, do not over cook, let cool
Combine all ingredients.  Fill muffin tin and bake for 15-20 mins or until golden brown.  Let cool 5 mins and gentle remove from pan.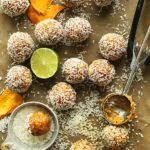 Mango Energy Bites
Vegan, GF, Refined Sugar Free
Happily serves 15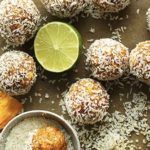 ALL ORGANIC INGREDIENTS
1 1/4 Cup walnuts or cashews
1 Cup firmly packed dried unsweetened mango
10 soaked medjool dates, pitted
2 TBSP hemp seeds
1/3 Cup unsweetened finely shredded coconut
1 lime and zest
Dash Sea salt
Preheat oven to 350.
Add dried mango to a mixing bowl and cover with warm water (don't skip this step or they'll be too tough to blend).
Let soak for 5-7 minutes, or until soft and pliable, but not too soggy.
Drain and lay on a towel and pat off excess moisture. Set aside.
Add nuts to a food processor and mix into a fine meal. Set aside.
Add dates and soaked mango to the food processor and mix until a rough paste/sticky dough forms.
Add nut meal, hemp seeds, shredded coconut, lime zest, and sea salt. Mix until it forms a moldable dough.