maple extract
now browsing by tag
Pumpkin Seed Dip 
Vegan, GF, Paleo
Happily serves 6-8
ALL ORGANIC INGREDIENTS
5 ounces Raw pumpkin seeds
2 TBSP Avocado oil
1/2 cup finely chopped shallots
1 large jalapeno, finely chopped
3 garlic cloves, chopped (let sit 5 min)
1/4 Cup Parsley
1/4 Cup Cilantro
Juice of a lime
1 TBSP Extra-virgin Olive oil or Avocado oil
1/4 tsp finely grated orange zest
2 TBSP Maple syrup or 1/4 tsp maple extract and stevia
Blend seeds in a food processor.
Cook shallots & garlic in the avocado oil.
*Add Sea salt and pepper, let cool.*
Add parsley, cilantro, lime juice, maple syrup, orange zest (and water if needed)
Add shallot mix when cooled, mix thoroughly
Sea salt to taste.
Variation: Can also be used a spread in a lettuce wrap.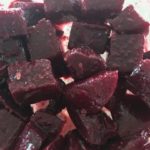 Fennel Seasoned Beets
GF, Vegan, Refined Sugar free
Happily serves 2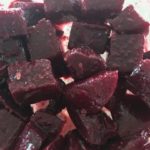 All Organic Ingredients
1 Golden or Red fresh beet
1/2-1 TBSP ground fennel seed
Sea salt to taste
1 TBSP melted coconut oil
1-2 tsp Chinese 5 Spice season.
1/2 TBSP Balsamic Vinegar (optional)
For Sweetness: You can add 1/8-1/4 tsp maple extract and cinnamon with stevia.
Wash and Peel beets. Either spirialize, slice or cube your beets so they cook faster. Roast in Convection oven for 15 mins. Remove and add seasonings. Toss, eat either warm or cold depending on preference.
One cup is recommended due to fiber count.
Option:
Use my coconut fennel sauce over Beets to change it up. Recipe list separate.
Sunflower Seed or Tahini Dressing/Sauce
Vegan, GF
Happy serves 4
All Organic Ingredients
1/4 cup (4TBSP) sunflower seed butter or Tahini
2 Tbsp Coconut Aminos
1 tsp maple syrup extract
1-2 TBSP Lime juice
1/2 tsp chili garlic sauce, 1 thai red chili minced, or 1/4 tsp red pepper flake
Hot water to thin
Prepare dipping sauce by adding sunflower seed butter, coconut aminos, maple extract, lime juice, and chili garlic sauce to a small mixing bowl and whisking to combine. Add enough warm water to thin into a thick but pourable dressing.
Adjust portions based on personal preferences for spice, sweetness or acidity.