Form
now browsing by tag
BiotaGen
Klaire Labs
$22.95 5.3oz powder
Versatile prebiotic formula to optimize gut microflora, improve bowel function 
and support the immune system.
BiotaGen is a distinctive formulation of soluble dietary fiber with prebiotic 
activities that stimulates growth of colonic populations of beneficial bacteria 
and enhances gastrointestinal and systemic immune function in multiple ways. 
BiotaGen combines chicory inulin and oligofructose, highly effective 
prebiotics, with the immunomodulating actions of larch arabinogalactan and 
purified yeast beta-glucan.
Chicory-derived inulin and oligofructose are inulin-type fructans best known 
for their ability to sustain increases in populations of Bifidobacterium, 
Lactobacillus, and Eubacterium, an important butyrate-producing species 
indigenous to the bowel. By escaping digestion and absorption in the small 
intestine, inulin-type fructans arrive largely intact in the colon where they 
selectively feed beneficial gut microbiota. In addition, inulin-type fructans 
promote normal colon transit times, enhance absorption of calcium and 
magnesium, favorably modulate lipid levels, improve gut mucosal barrier and 
immune function, regulate intestinal epithelial cell growth, and reduce the 
number of potentially harmful bacterial species.
Arabinogalactan, a polysaccharide derived from the Western Larch tree, is a 
highly soluble dietary fiber that enhances immune function by promoting 
cytokine production and increasing the number of natural killer cells. 
Indigestible by human enzymes, arabinogalactan exerts prebiotic properties 
including the ability to selectively stimulate Lactobacillus species. 
Arabinogalactan is metabolized to short-chain fatty acids acetate, butyrate, 
and propionate and reduces ammonia production.
Beta-glucan, a glucose polysaccharide prebiotic fiber, has broad, beneficial 
effect on immune function through enhancement of monocytes, macrophages, and 
natural killer cells. Beta-glucan stimulates immune response to a wide spectrum 
of pathogens, including fungal (Candida albicans), Gram-positive 
(Staphylococcus aureus), and Gram-negative (Escherichia coli) microorganisms.
BiotaGen is recommended to nutritionally support optimal gastrointestinal 
function, promote populations of healthful colonic bacteria, and enhance 
gastrointestinal and systemic immune function. BiotaGen® works synergistically 
with probiotics to assure intestinal microflora balance. Available in both 
powder and vegetarian capsule form.
Servings Per Container: 30
1 to 2 scoops daily with food or as directed by a healthcare practitioner..
Serving Size: 1 Scoop (Approx. 1 teaspoon or 5 grams)
Amount Per Serving
Calories … 5g
Total Carbohydrate … 5g
Dietary Fiber … 4g
BiotaGen Prebiotic Blend … 5g
Inulin (derived from chicory root) Oligofructose (derived from chicory root) 
Beta-Glucan (purified from Saccharomyces cerevisiae) Larch Arabinogalactan 
(Larix occidentalis), dried water-soluble extract
Other Ingredients: None.
Selenium Health Benefits and the Best sources
Do you have an under active Thyroid? Are you getting the vitamins and minerals needed to support the process?  Here is some info on why Selenium is important to the process.  Soaking your nuts and seeds for best absorption will help your already stressed out body.
Antioxidant Protection
Selenium is required for the proper activity of a group of enzymes called glutathione peroxidases. (sometimes abbreviated "GPO" or "GPx" for a glutathione peroxidase enzyme.) These enzymes play a key role in the body's detoxification system and they also provide protection against oxidative stress. (Oxidative stress is physiological circumstance in which there is excessive risk of oxygen-related damage to the body.) Of the eight known glutathione peroxidase enzymes, five of them require selenium.
In addition to the activity of glutathione peroxidase, selenium-containing enzymes are involved in recycling of vitamin C from its spent form back to its active one, allowing for greater antioxidant protection.
Support Normal Thyroid Function
A selenium-containing enzyme is responsible for transforming a less active thyroid hormone called T4 into the more active T3. As you'll see below in the Relationship with Other Nutrients section, selenium and iodine work together to keep thyroid function strong and consistent.
Like the antioxidant protection issue, this is not just an esoteric concern. Researchers have been able to induce problems with the thyroid gland in just two months of a low-selenium diet.
Probably, if you've read about food sources of selenium, you've read about Brazil nuts as a strong source of the mineral. Depending on where they are grown, this is likely to be true—one ounce of Brazil nuts may contain as much as 10 times the Dietary Reference Intake (DRI) recommendation for selenium intake.
Other exceptionally selenium-rich foods include oysters, clams, liver, and kidney. Each of these foods is likely to contain double to triple the DRI in a serving.
Fish and shellfish make up an outsized proportion of our excellent and very good sources. After these come other animal meats, many of which fall in the very good category. Close behind are whole grains and seeds, both of which are well-represented in our good selenium sources category.
http://whfoods.org/genpage.php?tname=newtip&dbid=144&utm_source=daily_click&utm_medium=email&utm_campaign=daily_email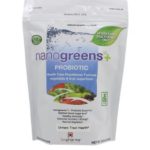 NanoGreens Plus Probiotic
BioPharma Scientific
300grams $54.95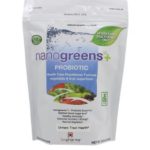 What makes nanogreens + probiotics different?
*Green powder mixed with DE111 Probiotic
*UTI Health Support
*Pouch Form -> Nitrogen Flushed
*5 Billion CFU dose after 2+ years
*DE111 Probiotic does not require special storage conditions like many other probiotics.
*Oral administration of Bacillus Subtilis DE111 helps digest and convert sugars and fats, and helps maintain glucose, cholesterol and triglyceride levels in the blood.
Vegan
Vegetarian
Gluten Free
All Natural
Non-GMO
Probiotic
Kid Friendly
How To Enjoy: Mix one scoop of nanogreens + probiotic with 6-8 oz of cold water, milk or juice. For best results, use shaker cup. Children under 12 should take 1/2 serving.  Refrigerate after opening.
Servings Per Container: 30
Serving Size: 10g (1 scoop)
Amount Per Serving
Calories … 45
Calories from Fat … 10
Total Fat … 1g
Total Carbohydrate … 7g
Dietary Fiber … 2g
Sugar … 2g
Protein … 2g
Vitamin A … 2500IU
(as Beta Carotene)
Vitamin C … 30mg
Sodium … 20mg
Potassium … 130mg
DE111®
Bacillus subtilis … 5 billion CFU
Greens Blend … 2250mg
(Proprietary)
Organic Barley Grass Juice, Spiruline, Chlorella
Phytonutrient Blend … 360mg
(Proprietary)
Green Tea Extract, Silybin (from Milk Thistle), Grape Seed Extract, Blueberry, Cranberry, Raspberry, Tart Cherry, Pine Bark Extract, Organic Broccoli, Tomato, Organic Carrot, Organic Spinach, Organic Kale, Bilberry, Elderberry, Pomegranate, Blackberry
Quercetin/Rutin … 100mg
50/50
Organic Rice Bran Soluble … 2081mg
Raspberry Extract … 50mg
(20% Ellagic Acid)
Organic Aloe Vera Powder Extract … 30mg
(100:1 freeze dried)
Fruit & Vegetable Blend … 930mg
(Proprietary) (freeze-dried, low temperature dried)
Organic Apple, Organic Carrot, Organic Mango, Organic Lemon, Organic Sweet Potato, Organic Peach, Organic Parsley, Organic Kale, Organic Broccoli, Organic Spinach, Organic Leek, Organic Cabbage, Beet, Organic Cranberry (Quinic Acid 6%)
Organic Acerola Cherry Powder … 175mg
(17.5% AscorbiC Acid)
Green Tea Extract, White Tea Extract … 100mg
(decaffeinated 50% Polyphenol)
Polygonum Cuspidatum Extract … 70mg
(15% Resveratrol)
Oat Beta Glucan … 1500mg
Cinnamon Blend … 50mg
(Proprietary)
cinnamon Extract 8%, Organic Cinnamon Bark Powder
Milk Thistle … 50mg
(20% Silymarin)
Marigold Extract … 50mg
(5% Lutein with Zeaxanthin)
Dunaliella Salina Extract … 100mg
(Natural Carotenoids)
Enzymes … 40mg
(Plant-based)
Alpha Amylase, Bromelain, Cellulase, Galactosidase, Glucoamylase, Hemicellulase, Lipase, Papain, Protease
Lecithin … 1000mg
(non GMO)
Lycopene Extract-10% … 25mg
(from tomato)
Organic Lemon Peel Powder … 25mg
Organic Quinoa Sprout … 90mg
Artichoke Extract … 20mg
(5% Cynarin)
Organic Atlantic Kelp Powder … 20mg
(laminaria Digitata, 0.4% Iodine)
Stevia Leaf Crystals … 200mg
(Stevia Rebaudiana)
Other Ingredients: Natural Flavors (Plant Based), Citric Acid, Soy Phospholipds.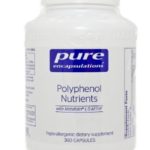 Polyphenol Nutrients
Pure Encapsulations
120 capsules $48.80
360 capsules $82.10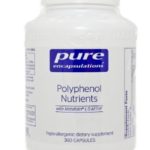 Now with Metafolin® L-5-MTHF Powerful polyphenol-rich multivitamin and multimineral formula with additional protection factors *Packed with flavonoids and phenolic compounds from a unique blend of olive fruit, grape seed, pomegranate, green tea, quercetin and blueberry, this formula offers powerful overall cellular protection. It also contains the protective nutrients alpha lipoic acid, NAC, inositol and choline to complement the neural, cognitive, cardiovascular, liver and skin health properties of this diverse profile. Furthermore, Polyphenol Nutrients provides the advanced mineral delivery systems and active vitamin cofactors found in Nutrient 950® and UltraNutrient® for optimal bioavailability and utilization. As part of a well-balanced diet that is low in saturated fat and cholesterol, folic acid, vitamin B6 and vitamin B12 may reduce the risk of vascular disease.† †FDA evaluated the above claim and found that while it is known that diets low in saturated fats and cholesterol reduce the risk of heart disease and other vascular diseases, the evidence in support of the above claim is inconclusive. Polyphenol Nutrients is a nutrient dense multivitamin and mineral formula enhanced with an exceptional combination of polyphenols and specialized compounds for extensive physiological protection.
Servings Per Container: 30
Take 4–6 capsules per day, in divided doses, with meals.
Serving Size: 6 vegetable capsules
Amount Per Serving
vitamin A … 7, 500IU 
(as beta carotene)
vitamin C … 500mg 
(as ascorbic acid)
vitamin D … 800IU 
(as cholecalciferol)(D3)
vitamin E … 100IU 
(as d-alpha tocopherol succinate)
thiamin … 50mg 
(as thiamin HCl)(B1)
riboflavin … 25mg 
(vitamin B2)
niacin … 75mg 
(as niacin and 67% niacinamide)
vitamin B6 … 12.5mg 
(as pyridoxine HCl)
folate … 800mcg 
(as Metafolin®, L-5-MTHF)
vitamin B12 … 500mcg 
(as methylcobalamin)
biotin … 800mcg
pantothenic acid … 50mg 
(as calcium pantothenate)(B5)
calcium … 300mg 
(as calcium citrate)
iodine … 200mcg 
(as potassium iodide)
magnesium … 150mg 
(as magnesium citrate)
zinc … 15mg 
(as zinc picolinate)
selenium … 200mcg 
(as selenomethionine)
copper … 2mg 
(as copper glycinate)
manganese … 5mg 
(as manganese aspartate)
chromium … 100mcg 
(as chromium polynicotinate)
molybdenum … 100mcg 
(as molybdenum aspartate)
potassium … 99mg 
(as potassium aspartate)
boron … 2mg 
(as boron glycinate)
vanadium … 100mcg 
(as vanadium aspartate)
ascorbyl palmitate … 120mg 
(fat-soluble vitamin C)
riboflavin 5phosphate … 12.5mg 
(activated B2)
pyridoxal 5 phosphate … 12.5mg 
(activated B6)
mixed carotenoids … 425mcg 
(as lutein, lycopene, zeaxanthin)
n-acetyl-l-cysteine … 100mg 
(free-form)
choline bitartrate … 100mg
inositol … 125mg
alpha lipoic acid … 100mg 
(thioctic acid)
MacularSynergy Complex
lutein … 6mg
zeaxanthin … 1mg
CellHealth Polyphenols
quercetin … 50mg
blueberry extract … 100mg
(Vaccinium angustifolium)(fruit)
(standardized to contain 1.5% anthocyanins)1.5 mg.
olive extract … 50mg
(Olea europaea l.)(fruit)
(standardized to provide 1% hydroxytyrosol)
pomegranate extract … 100mg
(Punica granatum l.)(fruit)
(standardized to contain 5% ellagic acid)5 mg.
grape extract … 50mg
(Vitis vinifera)(seed)
(standardized to contain 92% polyphenols)
green tea extract … 100mg
(camellia sinensis)(leaf)
(standardized to contain 65% total tea catechins, 23% epigallocatechin (EGCG))
other ingredients: vegetarian capsule (cellulose, water)
If pregnant or lactating, consult your physician before taking this product. In rare cases, alpha lipoic acid may cause skin rash or hypoglycemia. Individuals who are sensitive may experience heartburn. Rare side effects of NAC may include nausea, vomiting, headache, dry mouth, dizziness, or abdominal pain. Large doses of choline may cause nausea, diarrhea or dizziness.
Polyphenol nutrients contains vitamin E and grape seed extract which may react with blood thinning and other heart medications. Green tea extract may interfere with the absorption and effectiveness of a number of medications including certain heart, blood thinning, antidiarrheal, and cold or hay fever medications. Consult your physician for more information.
FloraGlo lutein is a registered trademark of Kemin Industries, Inc. Zeaxanthin is sourced from OPTISHARP™ brand. OPTISHARP™ is a trademark of DSM Nutritional Products, Inc. Metafolin® is a registered Trademark of Merck KGaA, Darmstadt, Germany.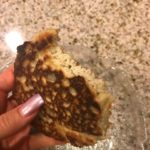 Protein Collagen Pancakes
Gluten Free, Dairy free
Happily serves 2-3
ALL ORGANIC INGREDIENTS
2 Free Range Pasture raised eggs
1 egg white
1/8 Cup melted Coconut oil
1/4Cup Coconut flour
2 scoops Bone Broth Protein Powder
Dash cinnamon
1/8 tsp Himalayan sea salt
Liquid Bone broth or water to thin (I only needed about a TBSP)
Stevia if desired sweeter
Whisk eggs and oil together thoroughly.
Stir in coconut flour, protein powder and Himalayan sea salt and allow to sit for 5 minutes
Heat coconut oil in a large skillet over medium-low heat.
Once hot, drop batter into cast iron skillet, cook until bubbles form on one side, flip and repeat.
Serve Hot
Bone Broth Protein Pancakes
Paleo, Gluten Free, Dairy free
Happily serves 2-4
ALL ORGANIC INGREDIENTS
1/2 Cup Applesauce
3–4 Free Range eggs
1/4 Cup melted Coconut oil
1/2 Cup Coconut flour
4 scoops Bone Broth Protein Powder
1/8 tsp cinnamon
1/8 tsp Himalayan sea salt