diabetes
now browsing by tag
Who understands auto immune disorders and how they affects us and our loved ones?  Here is a brief overview of what it is and a link if you want to research correct information further.
When an intruder invades your body—like a cold virus or bacteria on a thorn that pricks your skin—your immune system protects you. It tries to identify, kill, and eliminate the invaders that might hurt you. But sometimes problems with your immune system cause it to mistake your body's own healthy cells as invaders and then repeatedly attacks them. This is called an autoimmune disease. ("Autoimmune" means immunity against the self.)
Autoimmune diseases can affect almost any part of the body, including the heart, brain, nerves, muscles, skin, eyes, joints, lungs, kidneys, glands, the digestive tract, and blood vessels. The classic sign of an autoimmune disease is inflammation, which can cause redness, heat, pain, and swelling. How an autoimmune disease affects you depends on what part of the body is targeted. If the disease affects the joints, as in rheumatoid arthritis, you might have joint pain, stiffness, and loss of function. If it affects the thyroid, as in Graves' disease and thyroiditis, it might cause tiredness, weight gain, and muscle aches. If it attacks the skin, as it does in scleroderma/systemic sclerosis, vitiligo, and systemic lupus erythematosus (SLE), it can cause rashes, blisters, and color changes.
Many autoimmune diseases don't restrict themselves to one part of the body. For example, SLE can affect the skin, joints, kidneys, heart, nerves, blood vessels, and more. Type 1 diabetes can affect your glands, eyes, kidneys, muscles, and more.
KEY WORDS
Acquired immune system. The part of the immune system that develops as a person grows. It employs antibodies and immune cells to fight harmful substances.
Antibody. A special protein produced by the body's immune system that recognizes and helps fight infectious agents and other foreign substances that invade the body.
Antigen. A foreign substance that triggers the production of antibodies when it is introduced into the body.
Autoimmune disease. A disease that results when the immune system mistakenly attacks the body's own tissues.
Corticosteroids. Potent anti-inflammatory hormones that are made naturally in the body or synthetically (man-made) for use as drugs. They are also called glucocorticoids. The most commonly prescribed drug of this type is prednisone.
Diabetes, type 1. A condition in which the immune system destroys insulin-producing cells of the pancreas, making it impossible for the body to use glucose (blood sugar) for energy. Type 1 diabetes usually occurs in children and young adults.
Graves' disease. An autoimmune disease of the thyroid gland that results in the overproduction of thyroid hormone. This causes such symptoms as nervousness, heat intolerance, heart palpitations, and unexplained weight loss.
Immune system. A complex network of specialized cells and organs that work together to defend the body against attacks by foreign invaders, such as bacteria and viruses.
Thyroiditis. An inflammation of the thyroid gland that causes the gland to become underactive. This results in symptoms such as fatigue, weakness, weight gain, cold intolerance, and muscle aches.
Vitiligo. A disorder in which the immune system destroys pigment-making cells called melanocytes. This results in white patches of skin on different parts of the body.
The National Institutes of Health (NIH)—The Nation's Medical Research Agency—includes 27 Institutes and Centers and is a component of the U.S. Department of Health and Human Services. It is the primary Federal agency for conducting and supporting basic, clinical, and translational medical research, and it investigates the causes, treatments, and cures for both common and rare diseases. For more information about NIH visit:
https://www.niams.nih.gov/Health_Info/
GI Guard PM
Protocol for life balance
60 capsules $32.00
Maintains Healthy Mucosal Integrity
-With PepZin GI®, Melatonin, L-Tryptophan & B Vitamins
-Nighttime GI Support*
-A Dietary Supplement
-Vegetarian/Vegan
GI Guard™ PM is a nutritional formula with PepZin GI®, Melatonin, amino acids, and B Vitamins designed to help maintain the strength and integrity of the gastrointestinal mucosal barrier.* GI Guard™ PM features PepZin GI®, which has been shown in clinical studies to promote a healthy stomach lining and to support proper gut repair processes.* Melatonin, a potent free radical scavenger, is known to exist at high levels in the gut, where it exerts its protective effects against oxidative stress throughout the gastrointestinal tract.* Melatonin also helps support healthy gastric pH levels, normal pepsin production in the stomach, and helps to regulate proper intestinal motility.* B Vitamins and Amino Acids, such as L-Tryptophan are necessary for Melatonin synthesis.
Servings Per Container: 30
As a dietary supplement, take 1-2 capsules 30 to 60 minutes before bedtime, or take as directed by your healthcare practitioner.
Serving Size: 2 Veg Capsules
Amount Per Serving
Vitamin B-6 … 25mg 
(from Pyridoxine HCl)
Vitamin B-12 … 50mcg 
(as Cyanocobalamin)
Folic Acid … 800mcg
Zinc … 14mg 
(from PepZin GI®)
PepZin GI® … 75mg 
(Zinc-L-Carnosine Complex)
L-Carnosine … 57mg 
(from PepZin GI®)
Melatonin … 6mg
L-Tryptophan … 200mg
L-Methionine … 100mg
Trimethylglycine … 100mg 
(TMG)
Taurine … 100mg
Other Ingredients: Cellulose Powder, Cellulose (capsule), Silica and Magnesium Stearate (vegetable source).
Not manufactured with wheat, gluten, soy, milk, egg, fish, shellfish or tree nut ingredients. Produced in a GMP facility that processes other ingredients containing these allergens. CAUTIONS/INTERACTIONS: Do not drive or use machinery for 4 to 5 hours after taking melatonin. Theoretically, concomitant use of melatonin with alcohol, benzodiazepines, or other sedative drugs might cause additive sedation. Melatonin may interact with anticoagulant/anti-platelet medications, antidepressants, anti-hypertensives, anti-diabetes drugs, anti-neoplastic agents and other drugs. If you are taking any prescription medications or if you have glaucoma, consult your healthcare practitioner before using this product.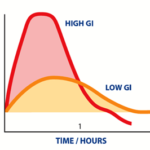 WHAT IS THE GLYCEMIC INDEX?
Carbohydrates are an essential part of our diets, but not all carbohydrate foods are equal. The Glycemic Index (GI) is a relative ranking of carbohydrate in foods according to how they affect blood glucose levels. Carbohydrates with a low GI value (55 or less) are more slowly digested, absorbed and metabolised and cause a lower and slower rise in blood glucose and insulin levels.
There are three ratings for GI:
Low = GI value 55 or less
Medium = GI value of 56 – 69 inclusive
High = GI 70 or more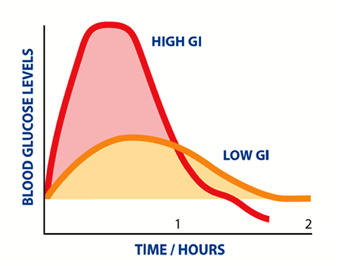 So why do we need good quality Low GI carbohydrates?
You need carbs as they break down into glucose in your body providing the main fuel for our brains and nervous systems, the preferred source of fuel for most organs and our muscles during exercise.
To help make healthy low GI choices quick and easy when you're shopping, the Glycemic Index Foundation developed the GI Symbol. It guarantees that
a food has been tested by independent experts to be low GI and meets strict nutrient criteria.
Source: http://www.gisymbol.com/about/glycemic-index/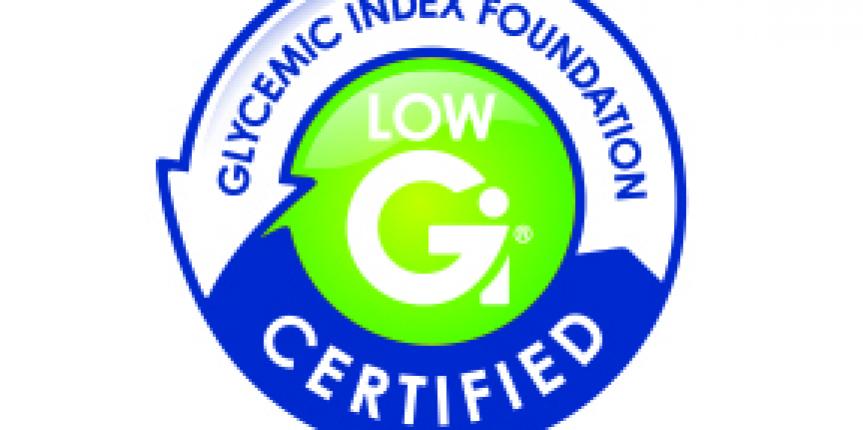 Source: http://www.glycemicindex.com
The glycemic index (GI) is a ranking of carbohydrates on a scale from 0 to 100 according to the extent to which they raise blood sugar levels after eating. Foods with a high GI are those which are rapidly digested and absorbed and result in marked fluctuations in blood sugar levels. Low-GI foods, by virtue of their slow digestion and absorption, produce gradual rises in blood sugar and insulin levels, and have proven benefits for health. Low GI diets have been shown to improve both glucose and lipid levels in people with diabetes (type 1 and type 2). They have benefits for weight control because they help control appetite and delay hunger. Low GI diets also reduce insulin levels and insulin resistance.
Recent studies from Harvard School of Public Health indicate that the risks of diseases such as type 2 diabetes and coronary heart disease are strongly related to the GI of the overall diet. In 1999, the World Health Organisation (WHO) and Food and Agriculture Organisation (FAO) recommended that people in industrialised countries base their diets on low-GI foods in order to prevent the most common diseases of affluence, such as coronary heart disease, diabetes and obesity.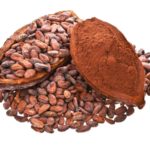 Cooking Class 2.12.2017
Chocolate Info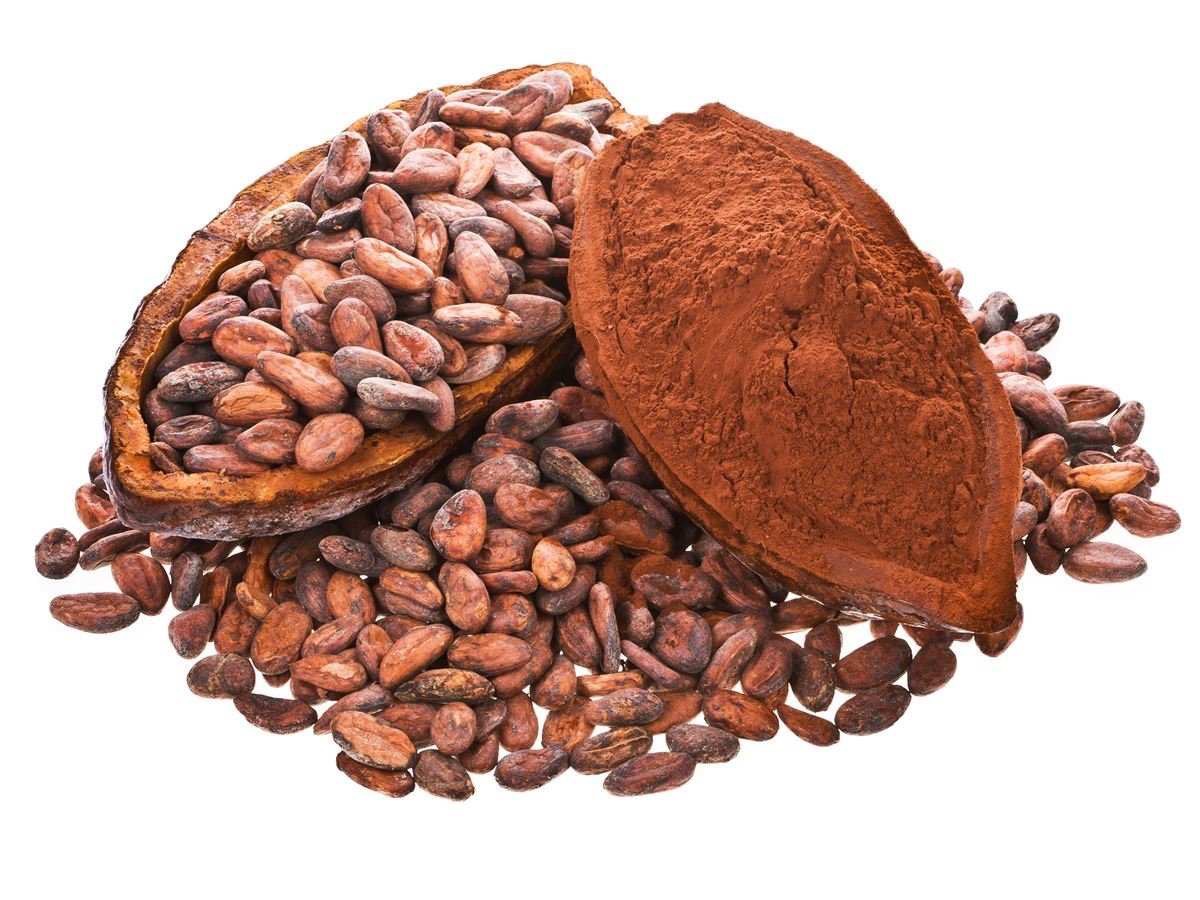 Cacao can fuel energy and mood. It is an excellent source of fiber good source of protein and iron. It is high in antioxidants and polyphenols. A half half a cup of raw organic cocoa powder has 110 cal, 2 g of fat 16 carbohydrates, 10 of which is dietary fiber. It contains 8 g of protein and will give you 10% of the iron you need for your daily requirements. It is considered a stimulant and should be eaten occasionally not every day.
Cocoa beans are the fermented seeds of the cacao tree. The fruit of the cocoa tree is a pod full of sweet pulp enfolding a cluster of about 20-40 cacao seeds. Cocoa refers to the low-fat constituent of the finely ground cacao beans. These ground beans, known as cocoa liquor or cocoa mass, also contains cocoa butter which is a non-dairy, naturally occurring fat. Cocoa butter is a mixture of monounsaturated fats like oleic acid and saturated fats, namely stearic acid and palmitic acid. About 50-60% of cocoa liquor consists of cocoa butter.
Cacao bark, butter and flowers have also been valued since ancient times for treating various diseases like skin ailments, bowel malfunction and wounds. Cocoa has anti-inflammatory, anti-allergenic, anti-carcinogenic and antioxidant qualities. Health benefits include relief from high blood pressure, cholesterol, obesity, constipation, diabetes, bronchial asthma, cancer, Chronic fatigue syndrome and various neurodegenerative diseases. It helps to improve cardiovascular health and brain health. It also helps in treating copper deficiency.
Commercially available chocolates and cocoa-products may not be rich in the original beneficial flavonols since their properties get destroyed by over-processing and heat. In order to obtain the benefits of cocoa, it is important to consume the correct source of cocoa. Milk/dairy blocks the absorption of the antioxidants in chocolate, so be sure to check the labels!
Antioxidant Capacity: Studies have shown it is evident that cocoa exhibits higher antioxidant activity than against green and black tea, and red wine. Antioxidants helps to neutralize the oxygen-based free radicals that are present in the body. Cacao is abundant in phenolic phytochemicals and possesses a high amount of flavonoids as well.
Of course, everything in moderation!
Jodi's Sweet Potato Brownies
Grain Free, Paleo, GF, Dairy free
Happily serves 12
ALL ORGANIC INGREDIENTS
2 medium Sweet Potatoes
14 Medjool Dates
1 1/2 Cups Quinoa or Almond Flour
4 TBSP Raw CACAO Powder
3 TBSP maple Syrup (Grade B) or Coconut netar
Pinch of sea salt
Peel Sweet Potatoes. Slice/cut and steam for about 20 mins until soft.
The smaller the pieces, the faster it will cook.
Add Sweet Potatoes and Dates to food processor, blend until a creamy smooth texture.
Mix all other ingredients in a bowl, then add cream mixture. Stir well.
Place on Parchment paper lined baking dish and bake for 20-30 mins on 350 until the toothpick comes out dry.
Allow to cool 10 mins for the brownies to gel together, very important step!!
Tip: If you don't use raw cacao powder, you cause conventional cocoa powder but you will need to double the quantity.
Chocolate Nut Butter Cookies
GF, Refined Sugar Free
Happily serves 12
ALL ORGANIC INGREDIENTS
1 Cup Chocolate Peanut or Sunflower butter
3/4 Cup Coconut sugar
1 egg
Combine all ingredients. Bake on 350 for 7-8 mins.
If you are not using an already flavored nut butter, you can use a regular nut butter and ad 1/4 cup raw cacao
Chocolate Iced Coffee Protein Shake
Dairy Free, Vegan, Refined Sugar Free
Happily serves 1
ALL ORGANIC INGREDIENTS
2 TBSP Raw Cacao powder
2 TBSP Collagen Powder
2 oz Coconut milk
2 oz Cold brew (optional)
4-6 oz Chai Tea or water
Dash of cinnamon
Stevia Powder if desired sweeter
Ice
Blend all ingredients in bullet/blender, transfer to shaker bottle.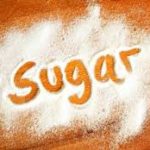 How Much Sugar is Too Much?
Calculating Refined Sugar Intake In Teaspoons 
A healthy adult human being has approximately 5 liters of blood circulating at any given moment.
 In that 5 Liters of Blood a grand total of 1 teaspoon of sugar is available during a fasting state. That's all the body needs to function.
 In 12-ounces of soda or energy drinks typically contain approximately 10 teaspoons of sugar.
 That little beverage effectively raises the blood sugar 10 times above what the body needs to function and typically within a matter of minutes.
To Decode the refined sugar in your diet simply do the following wherever refined sugars are listed in the ingredients.
1 Teaspoon of Sugar = Approximately 4 Grams of Sugar
In other words take the total grams of refined sugar and divide by 4 to learn how many teaspoons of sugar you are consuming per serving.
More About Refined Sugar
The Recommended Total Consumption of Refined Sugar & High Fructose Corn Syrup is less than 1 pound per month for Optimal Immune Health. Use the conversions below to assess how much sugar you are consuming each day.
1 teaspoon of Sugar = 4.2 grams = approximately 4 grams
453 grams of Sugar = 1 pound of Sugar
115 teaspoons of Sugar = 1 pound of Sugar
11 Sodas (132 Ounces) = 2, 2-Liter Bottles of Soda =
1 pound of Sugar 1 Soda (12 Ounces) = 39 grams of Sugar = Approximately 10 teaspoons of Sugar
1 Soda (20 Ounces) = 69 grams of Sugar = Approx. 16.5 teaspoons of Sugar
1 Soda (2 Liters) = 67 ounces of Soda = 221 grams of Sugar = ½ pound of Sugar
Drinking 1 Soda (12 Ounces) per day = 30 Sodas per month = 2.65 pounds of Sugar per month from Soda alone = 360 teaspoons of sugar your body will have to use, store or eliminate in order to remain in balance at 1 teaspoon circulating in the blood stream.
I would also say that I would not count fruits, vegetables, and whole grains to this total…just refined sugars like white sugar, brown sugar, high fructose corn syrup, dextrose, dextrin, maltodextrin, agave syrup, maple syrup, and evaporated cane juice.
The US governments projects that average annual refined sugar consumption alone…not counting any other sweetener will be 74 or more pounds per year for the next 20 years. And we wonder why diabetes is the fastest growing pathology in the United States today.