cup water
now browsing by tag
Air Fried Spring Rolls


Vegan, Gluten Free
Happily serves 4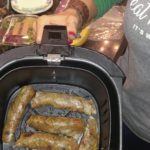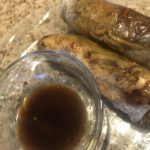 ALL ORGANIC INGREDIENTS
8 Spring wrappers
2 Cups mixed veggies (broccoli, cabbage, onions)
2 TBSP Coconut aminos
Avocado oil Spray
Sea Salt
1/4 Cup water (for Rice paper)
Optional: Can add shredded chicken or turkey.
Chop/Slice veggies. Stir fry or steam veggies about 3-5 minutes in a cast iron skillet.
Add Coconut Aminos.
Follow Rice paper wrap instructions
Lay out one rice roll paper and spoon some mixture onto the paper. Veggies and or meat should be warmed/cooked.
Fold in the sides and roll up.
Spray the spring rolls with avocado oil spray and place in the air fryer basket. Do not let the rolls touch each other.
Air Fry at 375 for about 5-8 minutes.

Collagen Vanilla Beetroot Power Shake
Vegan, Dairy Free, GF, Paleo

Happily serves 1
ALL ORGANIC INGREDIENTS
1 beet, peeled, chopped, steamed
1 cup FROZEN Blueberries or raspberries
2 cups steamed and drained spinach
1-2 TBSP lemon juice and zest
1 scoop Collagen powder
1 tsp wheatgrass powder, spirulina, or chlorella
1 tsp vanilla extract
1/2 tsp Cinnamon
1/2 cup Coconut water
Optional: Stevia
Add all Ingredients to Blender and blend til smooth.
Sriracha Aioli

Vegetarian, Gluten Free
Happily Serves 3-4
ALL ORGANIC INGREDIENTS
3/4 Cup Raw Cashews
5  Garlic cloves, minced
1/4 Cup water
1-2 TBSP Avocado oil
1 tsp Maple syrup
1 TBSP Lime juice
Sea salt + black pepper to taste
1 tsp Sriracha (or other hot sauce), plus more to taste
Pinch each chili powder, smoked paprika, and ground cumin
Optional: 1/2 tsp Nutritional yeast (for a little cheesiness)
Place cashews in a bowl and cover with boiling hot water.
Let set, uncovered, for about 1 hour or until very soft, drain thoroughly and Rinse.
Add cashews to the blender or food processor with fresh garlic, water, 1 Tbsp Avocado oil, maple syrup, lime juice, salt, pepper, Sriracha, and spices.
(Nutritional yeast is optional.)
Blend on high until creamy and smooth.
Add more water if it's too thick.