Cup bone broth
now browsing by tag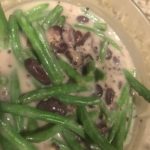 Creamy Coconut Garlic Quinoa and Beans
Gluten Free, Dairy Free, Vegan
Happily serves 3-4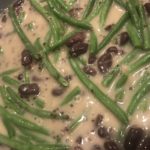 ALL ORGANIC INGREDIENTS
1 Cup Quinoa (extra 1 Cup Bone Broth to prepare)
2 TBSP Avocado Oil
1 Cup Coconut Cream
½ Cup Chicken Bone Broth
1 tsp Garlic
2 tsp Italian seasoning
½ Cup Vegan Cheese
1 Cup Green Beans
1 Cup Kidney Beans
Press or cut garlic, let sit 5 minutes.
Rinse Quinoa. Cook quinoa and bone broth for about 15 mins. Remove form heat.
In a skillet heat Avocado oil and sauté the green beans, kidney beans.
In a separate sauté pan, add the Coconut cream, Bone broth, garlic, italian seasoning. Slowly bring to a simmer and add quinoa and cheese.
Add the Kidney Beans and green beans.
Serve over zucchini pasta if desired.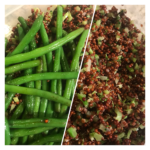 Quinoa Broccoli "Rice" Bowl
Vegan, Gluten Free
Happily serves 2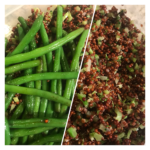 ALL ORGANIC INGREDIENTS
1 Cup Rinsed Quinoa
1 Cup Bone Broth
1 Cup Broccoli Rice
1 TBSP Avocado Oil
1 TBSP Lemon Juice
2 Garlic Cloves
1 tsp minced onion or 1/4 cup yellow onion
1 tsp Himalayan Sea Salt
Rinse and drain Quinoa.
Heat Bone broth and add quinoa. Slow simmer about 10-15 minutes depending on how crunchy you prefer.
Steam Broccoli 3-5 minutes.
Add Avocado oil, lemon juice and spices together with the broccoli and quinoa.
Add extra Veggies for more fiber or use as filling for a stuffed Bell pepper.

Stuffed Acorn Squash Bowls
Vegan, Gluten Free
Happily Serves 2
ALL ORGANIC INGREDIENTS
1 Acorn Squash
1 TBSP Coconut oil
1 Cup Tri-Color Sprouted Quinoa
1 Cup Bone Broth (or vegetable broth if vegan)
1 Red Onion
1 Red Bell Pepper
1 Cup Green Bell Pepper
2 Green Onion Stalks
1 tsp garlic
Himalayan Sea Salt
Pepper to taste
Cut or mince Garlic, let sit 5 minutes.
Cut squash in half, remove seeds. Cut very bottom round off so the squash can sit like a bowl.
Brush Squash halves with coconut oil, set in air fryer for 5-7 minutes (or bake for 15-20 until soft).
Prepare Quinoa. Equal parts bone broth to rinsed quinoa.
(One cup to one cup, cooked like rice, leave the lid on).
Cook for 10 minutes, do not over cook.
Sauté chopped bell peppers and onions about 5 minutes or air fry for 5 minutes.
Add Garlic and salt and pepper.
Remove from heat, add all ingredients together and fill squash bowls.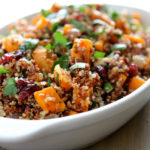 Sweet Potato Quinoa Cranberry Stuffing
Gluten Free, Vegan, Vegetarian 
Happily serves 4
ALL ORGANIC INGREDIENTS
1 cup Tricolor sprouted quinoa, rinsed
2 diced Sweet potatoes
1/2 red onion
1 crushed garlic clove (cut and let sit 5 mins)
1 TBSP Coconut oil
2 tsp Cumin
3 TBSP Chopped parsley
1.5 C Bone broth
Sea Salt & White Pepper to taste
Optional: 1/2 C cranberries
Optional: 1/4 C pecans
Preheat oven to 375

 
Rinse Quinoa.  Heat 1 1/2 cup bone broth, add quinoa and simmer for about 15 minutes until water is absorbed.  Do not over cook.  Remove from heat and let cool.
On a baking stone, Add sweet potatoes, onions and garlic. Drizzle with Coconut oil and roast for 15-20 minutes, until soft.
Combine sweet potatoes and onions with cooked quinoa. Stir in cumin, cranberries, pecans, parsley, salt and pepper.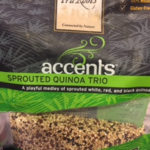 Quinoa Quiche
GF, Paleo
Happily serves 2
ALL ORGANIC INGREDIENTS
3/4 Cup sprouted tricolor quinoa, rinsed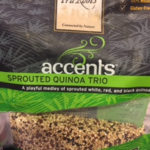 1 1/2 Cup bone broth (for cooking quinoa)
2 free range eggs, lightly beaten
2 Cups broccoli, finely diced
1 Cup yellow onion, finely chopped
1 garlic clove, minced
1 1/2 Cup Vegan cheese
1/2 tsp paprika
Crushed red pepper to taste (optional)
Preheat oven to 350, spray muffin tins with coconut oil.
Cook quinoa according to directions, do not over cook, let cool
Combine all ingredients.  Fill muffin tin and bake for 15-20 mins or until golden brown.  Let cool 5 mins and gentle remove from pan.