baking stone
now browsing by tag
Indian Inspired Baked Kale
Gluten Free, Vegetarian
Happily serves 2
ALL ORGANIC INGREDIENTS
1 TBSP Tahini or Almond butter
1 TBSP Coconut oil, melted
Zest of 1 Orange or Lime
2 garlic cloves, crushed
1 tsp garma masala
¼ tsp Cardamom
Optional: 1 TBSP Nutritional yeast
Optional: 1 TBSP Coconut Aminos to thin if you aren't baking kale and just want a salad dressing.
Preheat oven at 275 degrees.
Prepare baking stone with parchment paper.
Mix all the ingredients together until smooth.
In a large bowl, pour the dressing over the chopped kale.
Mix the dressing into the kale thoroughly, spread evenly on baking stone.
Make sure the leaves aren't overlapping, this prevents sogginess.
Bake for 15 minutes and rotate pan.
Bake for another 15 minutes, check for crispness.
If the chips aren't crisp yet, rotate again and bake for 5-10 minutes more.
Allow the chips to cool for about 5 minutes before serving.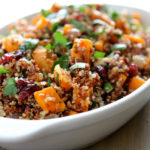 Sweet Potato Quinoa Cranberry Stuffing
Gluten Free, Vegan, Vegetarian 
Happily serves 4
ALL ORGANIC INGREDIENTS
1 cup Tricolor sprouted quinoa, rinsed
2 diced Sweet potatoes
1/2 red onion
1 crushed garlic clove (cut and let sit 5 mins)
1 TBSP Coconut oil
2 tsp Cumin
3 TBSP Chopped parsley
1.5 C Bone broth
Sea Salt & White Pepper to taste
Optional: 1/2 C cranberries
Optional: 1/4 C pecans
Preheat oven to 375

 
Rinse Quinoa.  Heat 1 1/2 cup bone broth, add quinoa and simmer for about 15 minutes until water is absorbed.  Do not over cook.  Remove from heat and let cool.
On a baking stone, Add sweet potatoes, onions and garlic. Drizzle with Coconut oil and roast for 15-20 minutes, until soft.
Combine sweet potatoes and onions with cooked quinoa. Stir in cumin, cranberries, pecans, parsley, salt and pepper.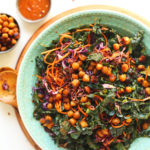 Asian Chick Pea Kale Salad
Vegan, Gluten Free
Happily Serves 4
VEGETABLES
1 large bundle finely chopped kale  (steamed and drained)
1 cup finely grated carrots (steamed)
2 cups finely shredded red cabbage (Steamed)
DRESSING
1/4 cup cashew butter (or sub sunflower butter)
1/4 cup + 1 Tbsp Korean BBQ sauce (Skyvalley brand)
1/4 cup sesame oil
3 Tbsp maple syrup
Sea salt or 1 Tbsp tamari or coco amigos
CHICKPEAS
1 Cup soaked and dried chickpeas (or sub Mung beans)
2 Tbsp sesame oil or avocado oil
2 tsp maple syrup
1 garlic clove
optional: red pepper flakes or chili powder
Preheat oven to 425
When preparing chickpeas, make sure they are dry – this will help them crisp up.
In a medium mixing bowl add sesame oil, maple syrup and Korean BBQ sauce and whisk.  Add chickpeas and toss to coat. Arrange on a baking stone/sheet and bake for 20-25 minutes, tossing halfway to ensure even baking. They're done when crisp and deep golden brown.
To prepare dressing, add all ingredients and whisk to combine. Taste and adjust flavors as needed, adding more maple syrup for sweetness, Korean BBQ sauce for heat, cashew butter for creaminess, or salt or tamari for saltiness.
Add kale (steamed), carrots and cabbage to a large mixing/serving bowl and toss to combine. Then add dressing, toss to coat.
To serve, divide salad between serving plates and top with crunchy chickpeas.  Keep leftover chickpeas separate from salad in a well-sealed container at room temperature for 2 days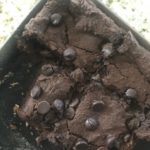 Jodi's Fudgy brownies
Grain free, Refined sugar free, Dairy free, Gluten Free,
Happily Serves 12
ALL ORGANIC INGREDIENTS 
1 Egg
2 Cups Black beans rinsed, drained & cooked
One avocado
1 TBSP vanilla extract
1/2 Cup Coconut Brown sugar
2/3 Cup Carob
1-2 tsp Coconut oil
1/4 tsp baking soda
1/4 tsp baking powder
1/2 tsp Himalayan Sea Salt
1/2 cup dairy free chocolate chips
Preheat oven to 350°. Grease an 8 x 8″ baking stone.
Mix egg, black beans, avocado, vanilla and sugar in the food processor until smooth.
Add the Carob,  coconut oil, baking soda, baking powder and mix again until smooth.
Batter needs to be sticky to be fudgy.
If you want it thinner add a tablespoon or so of coconut milk.
Fold in the chocolate chips spread in the pan and bake for about 25 minutes or until toothpick comes out clean. Cool completely.
Tips:  The food processor is best.  It  blends and hides the consistency of the beans.