Articles
now browsing by tag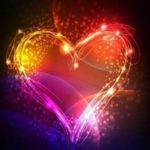 We are told we need to be mindful.  In Food, exercise, school, meditation and relationships.  That goes for our kids, coworkers, friends and family right?  Why wouldn't we nurture nurture our spouse or partner the same as we do our children?  There is nor should  be no difference.  Being mindful in dating is especially important as well.  Not a subject most want to talk about and it easily become uncomfortable.  I work with this on a daily basis as I train and coach clients on workout habits and eatings habits.  We ALL want to look and feel good.  My clients express concerns with their bodies and wanting to look "the way they did before" or tone up.  Whatever your verbiage, we all love to rock a great outfit but ultimately want to feel comfortable being naked.  I know, I know….touchy subject but necessary to address.  Dealing with emotional issues and trauma leaves my clients vulnerable and fearful of judgement.  I spend a great deal of time with my clients uncovering body issues to help identify those fears so that ultimately we can create new habits around food and nutrition choices. We must do this before we are going to get a handle on our eating disorders and skewed thinking around "what's healthy".
I was researching articles today and came across this fabulous article by Cara Kovacs  that I think you'll enjoy and help shed some light on the dating scene or even help you in your current situation whether it's a boyfriend/girlfriend, fiancé, or spouse because truly, you should never stop dating.
YES, I SAID NEVER…I don't do that often.
April 22, 2019
I have not celebrated formally before and thought it would be fitting today to show gratitude or this Marvelous Planet we live on.  I think most of us take our resources for granted as we rush day to day.
My institute instructor repeatedly tells us, Nothing in Nature hurry's up.  We need to slow dow…breathe…meditate….love more…show more gratitude…give back and hold space during the process.
Life is Journey.  Journaling is the key to unlocking everything in that pretty little brain of yours…write it down!  Get it out!! Scream!! And then Shout for joy because you ignited the process and you are on your way!
I invited my dear friend who is a Master Gardner (I accidentally called her a General Contractor instead of a Project Manager in the video, whoops, sorry) in to help me conduct my class.  I wanted to teach plant based foods and encourage one vegan day a week to be aware of the resources we could cut by just that one meal collectively as a planet.  I decided I wanted to Spot light Jackie's business as a Patio designer.  She is fabulous and gave some great tips and helped expand my knowledge and appreciate for her work.
I love supporting Local business so I highlighted the Transformational Healing Center I work at, Family Fusion.  I spoke about the amazing women that make us a great Support Network above the rest.  If you visit the website you can read more about the services offered there.
If you contact me directly I can put you in touch with Jackie France personally if you are local.  Here are the links I spoke about, Jackie's preference.  And make sure you check out my recipe tab for the yummy snacks we ate!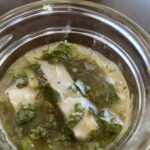 Spring Fling Cream Cheese
Vegan, Gluten Free
Happily Serves 16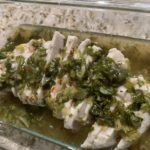 ALL ORGANIC INGREDIENTS
1 8 oz package VEGAN Cream cheese
1/2 Cup Avocado Oil
1⁄2 Cup Coconut Vinegar or apple cider vin
3 TBSP fresh parsley
2 TBSP Green Onions
2 Garlic Cloves or 1 tsp minced garlic
2 tsp Monk Fruit (or coconut sugar)
3⁄4 tsp Basil
1/8 Cup Diced Red Pepper or 1/2 tsp Crushed Red Pepper flakes
1⁄2 tsp Himalayan Sea Salt
1⁄2 tsp Ground black pepper
In a shaker bottle combine the avocado oil, coconut vinegar, red pepper, parsley, green onion, garlic, monk fruit, basil, salt and pepper.
Shake to blend and sat aside.
Pour the marinade over the cheese block, cover and refrigerate for at least 6 hours.
Option:
Cut a block of Cheddar cheese in half lengthwise.
Cut crosswise into 1/4 inch slices to form squares.
Repeat with cream cheese.
Arrange cheese squares alternately in a shallow baking dish with slices standing on edge.
Pour the marinade from the jar over the cheese slices, cover and refrigerate for at least 6 hours or overnight.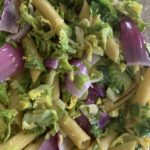 Brussel Sprout Penne Pasta
Gluten Free, Vegan
Happily Serves 2
ALL ORGANIC INGREDIENTS
1 Cup Brussel Sprouts
1 Cup Penne Pasta
2 TBSP Olive oil or Avocado Oil
2-3 TBSP Lemon Juice
1-2 tsp Sea Salt
1/8 Red Onion
1 Garlic Clove
1 Green Onion
1 tsp Minced Onion
Cut bottom core off, cut and quarter and wash Brussel sprouts well (they hide dirt well)
Air fry 7 minutes or Bake 15 minutes.
Cook Vegan Green Lentil Penne Pasta according to Package. You can cook it in Veggie broth or Bone broth for greater flavor and nutrients.
Cook Red onion 5-7 minutes (this is easier on digestion)
Add all ingredients together.
You can serve warm or as a cold pasta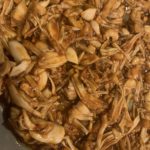 Vegans like Tacos too!  Here is your option to enjoy the texture and all the flavor and spices you love!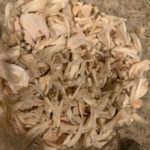 Gluten Free
Happily Serves 2
ALL ORGANIC INGREDIENTS
2 Cups Jack Fruit
1/2 Cup Jodi's Homemade Ketchup (you can add more spice to make it more of a bbq flavor)  
Optional:
1/4-1/2 Cup Bone broth to slow cook or use vegetable stock
Shred Jackfruit and slow cook in crock pot on low for 2 hours or heat on stove top.  Add BBQ or ketchup and desired spices.
Serve in lettuce wraps or veggie stir fry for variety.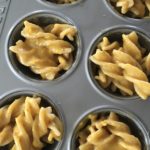 Mac and Cheese Cups
Vegan, Gluten Free
Happily Serves 2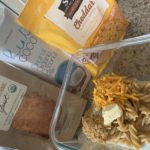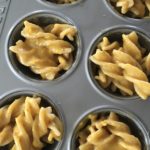 ALL ORGANIC INGREDIENTS
4 oz dry Gluten Free Pasta
1/4 Cup Almond or Coconut Milk
1/4 tsp Sea salt
1 TBSP Nutritional Yeast (optional)
1/4 Cup Shredded Cheddar Cheese (SoDelicious brand)
1 TBSP Butter
Preheat oven to 400.
Spray a mini muffin or cupcake tin with coconut or avocado oil. Set aside
Cook Pasta according to instructions, drain completely.
Add all other ingredients to the pot with the drained pasta.
Cook over low heat, stirring continuously, until cheese melts.
Portion into the muffin tins and press each down.
Bake 20 minutes
The cups should set up without falling apart.
Let them cool at least 15 minutes before removing.

https://amzn.to/2Gx6CRT