Tuna Stuffed Tomatoes! Delicious! Skip the rice, get all the clean protein!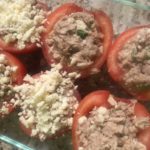 Tuna Stuffed Tomatoes
Gluten Free, Keto Friendly, Dairy Free
Happily serves 1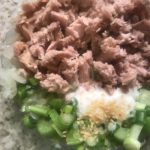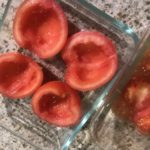 ALL ORGANIC INGREDIENTS
4 oz Tuna
2 Vine Tomatoes 
1 TBSP Vegan Mayo
1 TBSP Balsamic Vinegar 
1 TBSP Lemon Juice
1 TBSP Sunflower Oil
1 Garlic Clove
1 Green Onion 
1 Celery Stalk
1/8 Cup Yellow Onion
Sea Salt
Optional: 1/4 Cup Vegan Cheese (SO Delicious brand)
Cut Garlic, let sit 5 minutes.
Dice celery and onions. 
Cut Tomatoes in half, scoop out seeds. 
Mix all ingredients together except cheese.
(do not drain off the water in the tuna can if you are not using fresh tuna, That's where the omega settle, kind of like the peanut butter jar)
Spoon in the mix into the tomatoes, top with cheese.  
Bake at 400 for 7-10 minutes, or you can eat it cold.