Mashed Potatoes? YES PLEASE!!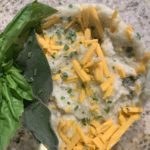 Cauliflower Mashed "Potatoes"
Vegan, Gluten Free
Happily serves 2-4

ALL ORGANIC INGREDIENTS
2 Cups Cauliflower
1/4-1/2 Cup Almond Milk
1/4 Cup Butter or Avocado oil
1/4-1/2 Cup Coconut Cheese
1/2 TBSP Sea Salt
1 tsp Minced onion or 1/8 cup Fresh onion
1 Garlic Clove
Optional: IF you don't have fresh herbs you can use dried spices
2 Sage Leaves
2 Basil Leaves
Chop cauliflower, or use "riced" instead, it's easier and faster. Steam/cook/cauliflower 7-10 minutes.
Room temperature butter or soften on the stove (not microwave)
Add ingredients to the food processor and blend until smooth.
You can adjust the milk and cheese to the consistency you like. You can use coconut milk but it changes the texture when it gets cold.
I used the So Delicious brand cheese so it remains dairy free.