Roasted Red Pepper Soup-Comfort food that's good for you!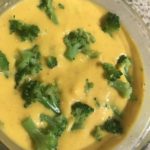 Roasted Red Bell Pepper Soup
Vegan, Gluten Free
Happily Serves 2-3
ALL ORGANIC INGREDIENTS
2 Cups Cauliflower 
1 Cup Roasted Red/Orange Bell Peppers
2 Cups Almond Milk
3 TBSP Avocado oil
1/2 TBSP Minced Garlic
1/2 TBSP Minced Onion
1/2 TBSP Sea Salt
1/2 TBSP Smoked Paprika 
1/4 Cup Reserved Cauliflower 
Optional: 
1 Hatch Green Chili (more if you want it spicy)
Top with 1/4 Cup Broccoli 
Roast Bell peppers in the convention oven for 5 minutes.  
Roast Cauliflower in oven for 7 minutes. (Riced is easiest, but not necessary).
Roast Broccoli 7 Minutes.
Put aside 1/4 Cup Cauliflower and 1/4 Cup Roasted Broccoli 
Put all ingredients except the broccoli and 1/4 cup riced Cauliflower.  Blend on high until smooth.
Add extra riced Cauliflower and broccoli for texture.
Add or omit Green Chili depending on spice.  
Run on VitaMix for 7 minutes and it will heat to just below 118 degrees.  
OR Blend in food processor of blender/vitamix and transfer to Stop top and heat til warm enough to eat, not to boiling as to not destroy nutrients.