Cashew Crusted Cabbage Steak
Vegan, Gluten Free
Happily serves 4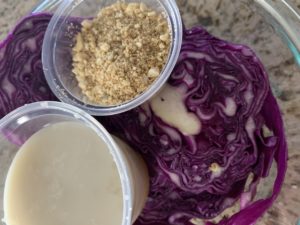 ALL ORGANIC INGREDIENTS
1 Whole Purple Cabbage
ALMOND BUTTERMILK:
1 Cup Unsweetened Almond Milk
1 TBSP Lemon juice
COATING:
1 ½ Cups Raw Cashews
1 tsp Sea salt
1/4 tsp Cayenne pepper
3/4 tsp Garlic powder
1 ½ tsp Smoked Paprika
3 TBSP Arrowroot (or cornstarch)
1 TBSP Avocado oil
Optional: 1 ½ tsp Curry, turmeric or cumin powder
Preheat oven to 425.
Line a large baking sheet with parchment paper.
Prepare vegan buttermilk by adding almond milk and lemon juice to a shallow dish. Stir and set aside
Slice Cabbage into 1 inch "steak" rounds.
Add an inch water in a steamer basket to a large pot and bring to a low boil. Add cabbage and cover, steam for 4-5 minutes to partially cook.
This will ensure proper cooking time and help the inside by tender when the exterior is browned and crispy.  You can also air fry for 4 minutes.
Remove and set aside on a separate dish.

Prepare the cashew coating by adding cashews, salt, cayenne pepper, garlic powder, curry powder, paprika, and arrowroot starch to a food processor.
Mix until a semi-fine meal is achieved, it should be pretty fine so it can coat the cabbage.
Transfer coating to a shallow dish and set aside.
Dip the steamed cabbage in the almond buttermilk, ensuring both sides are adequately coated.
Set back on platter so excess will drip off and season both sides with sea salt.

Next, dredge the cabbage in the cashew coating until thoroughly coated, using a spoon to add more coating to any bare spots. Then transfer cabbage steaks to your prepared baking sheet
Spray avocado oil to help them crisp up.
Bake for about 15-20 minutes, or until the cabbage steak  is easily pierced with a knife and the exterior appears golden brown and crispy.
Remove from oven to cool slightly before serving.
Cooking tips:
Line a large baking sheet with parchment paper.
You use a cooling rack that is oven safe, place that over the parchment paper to help the cabbage crisp up more.
The cabbage underside can get a little more browned when not using a cooling rack.
Cooking the cabbage in the upper third of the oven helps prevent the bottoms from burning.